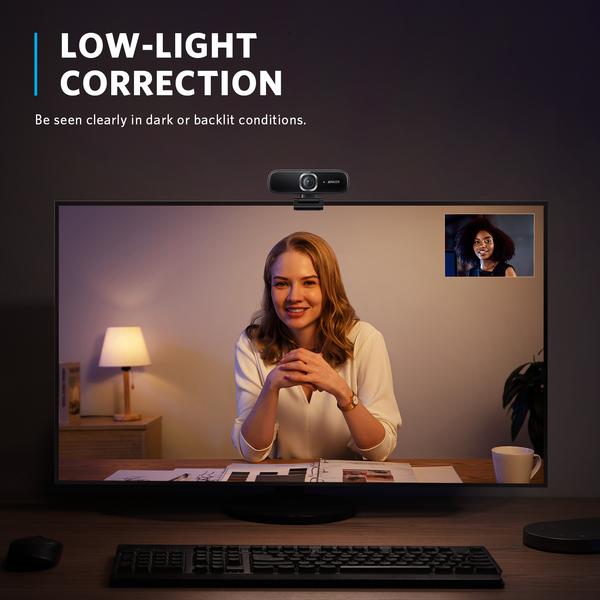 Anker Powercam C300 Black
Look Like a Pro: Make a great first impression with clients and impress your boss with PowerConf C300's crisp HD webcam 1080p/60FPS camera with true-to-life colors.
Clear Voice Pickup: Be heard loud and clear via HD webcam while working from home thanks to the ultra-sensitive dual microphones.
Shine Bright in Low Light: When working late or calling clients in different time zones, the HD webcam's AI-powered auto low-light correction kicks in to ensure you stand out, even in poor lighting conditions.
Fit Everyone In Frame: Whether you're calling solo from home or huddled with colleagues in the office, our revolutionary AI technology automatically adjusts the field of view depending on the number of people in your meeting.
No Time Wasted: Automatically focuses on people or objects within just 0.35 seconds. Use auto-focus AI to show off every detail of your latest samples and prototypes without waiting for the focus to catch up
Key Features

Zoom Certified: Evaluated and approved by the latest professional standards of Zoom for picture quality, color, and clarity.

1080p Camera: Upgrade your grainy laptop camera and look like a true professional with PowerConf C300's full HD 1080p/60fps camera.

Dual Microphones:The two microphones work together alongside Active Noise Cancellation so callers can only hear your voice, as opposed to distracting background noise.

Adjustable Field of View: Go from up close and personal to fitting everyone in frame all without messing around with settings thanks to PowerConf C300's automatically adjustable field of view.

Face Tracking: PowerConf C300 puts you front and center of every meeting. The innovative AI chip recognizes your face and auto tracks your movement via the pan and tilt camera.

Auto Low-Light Correction: Look crisp and clear while on-call, even in heavily backlit or low-light conditions.

Privacy Cover: Snap the included privacy cover onto the camera and slide it over the lens to prevent prying eyes from peeking in on your personal life.

Download the App:With the AnkerWork app, you can choose from 4 meeting modes to tailor PowerConf C300 to your exact needs. You can even customize your own settings.
Note:

We strongly recommend that you go to software.anker.com to download the latest firmware update to make full use of PowerConf C300's AI features.

The AnkerWork software supports only Windows 7/8/10/11 and Mac OS 10.15 and above.
The World's No. 1 Mobile Charging Brand*

200 Million+
200 Million+ Products Sold Worldwide

146 Countries
Available in 146 Countries

10 Years of Innovation
Pioneer in Charging Technology for 10 Years
In terms of retail sales value in 2020.
Data source: Euromonitor International (Shanghai) Co., Ltd., measured in terms of retail sales value in 2020, based on research conducted in 11-2021. Brands are defined as mobile charging brands if more than 75% of their retail sales are contributed by mobile phone charging products. Mobile phone charging products include chargers, wireless chargers, power banks, and charging cables, and these accessories can also be used for other consumer electronics devices.